Best Ways for Online Chatting with Girls
The first step in chatting with girls online is a crucial element! That very first text message. Yes, get this step wrong, and you'll probably end up failing. 
The first message that will impress any girl
Try this trick and make an instant emotional connection:
"So, what's your astrology star sign, I'm a textbook Virgo?"
"What kind of music do you like?"
"Okay, here's an important question for you, do you have an all-time best movie and why is it your favorite?"
Guys. It's important to use a(?) with your initial messages. Really important.
Before moving ahead, let's see what kind of messages girls usually get on chat sites. 
Hi
Hello
Hi, what's going on
Hey
Hey cutie!
Wow (now that's an original one, sigh!)
Hi gorgeous
The question I'm going to ask you is, what are you trying to achieve with these messages? Remember, you're competing with a long list of men, give her a reason to provide a response to you.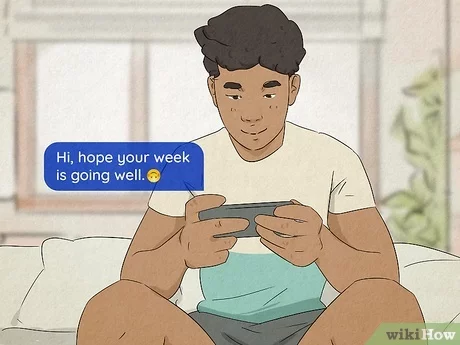 So, guys, now that dating, and chat apps have become the norm, knowing how to chat with girls online is an important skill to learn.
Since you're mostly limited to text, you're missing a lot of other social cues we tend to rely on when meeting new people. Facial expressions, body language, are all missing when we're talking to people online.
The aim is to be more engaging and show her your personality to get to know each other quickly and to build enough confidence to setup the first date.
Confidence is key
Confidence is key and it's a quality that every single person finds attractive. If you can come across as a calm and confident guy, you're already helping your chances more than you already know.   
One great thing about text conversations is that you have the time to think about your conversations and responses.  Even if you aren't a naturally confident person you can learn to project that image for now while you work on the real thing.
The difference here can be subtle, so you don't need to make big changes in the way for you to communicate. For example, rather than vaguely asking her if she'd like to do something sometime, make a suggestion instead.
"We should head to that bar on Friday night I hear their sangrias are amazing." This is so much better than "if you're free sometime maybe we can hangout and go do something." See the difference?       
Start with something funny or interesting!
When you learn to start the conversation with something more interesting, the number of responses you'll get will improve dramatically.  Pay attention to her profile, make observations, and show her your sense of humor, it'll really help you to set the right tone for the rest of your conversation.
Keep it respectful
This should go without saying, but you wouldn't believe some of the messages some of the women get with chat sites and online dating. No matter the conversation or your personality type, there's never a reason to be disrespectful or creepy ever, that's all there is to it.
If you're wondering what qualifies as creepy, basically anything that escalates or becomes too familiar too quickly. Don't call her sweetie or babe or honey. Don't ask her for nudes or send dik pics ever! Confidence is very attractive, but this isn't attractive.
Build trust and comfort
The whole point of online dating or online chat is to go on actual dates with women, right? To getting some magic online to meeting up in person there's a level of trust that has to be established.
The best way to do this is to be open with her and take a genuine interest in who she is. If you can nail these elements, trust and comfort will naturally start to build. Since you're being genuine, showing her who you are and actually caring about what she's into, she'll be way more comfortable with the idea of meeting you.
Compliments are okay as long as you're creative
Complimenting someone you don't really know is a risky game. If you're throwing out insincere compliments it's going to feel like you've copy and pasted the same thing over and over.
If you're going to use compliments in your online chat conversation at all make them genuine and creative. "You have beautiful eyes" as your first or second message, that's a little off-putting. Even after your tenth message, these kinds of comments are still going to sound a bit weird.
Save these comments for when you're getting to know her a little bit more. If you see something in her that you genuinely like, that's when it's safe to use compliments effectively.
Remember, she's actually a real person
If you've ever listened to the endless wisdom from the pickup artist community you know exactly why I had to include this today. Believe it or not, women are not baseless targets, they are real people too.
Instead of treating women like a statistic, remember that your online conversations are just 2 people chatting and communicating. You shouldn't be there to fool her or to manipulate her into going on a date with you. That will only waste your time and hers.
Be respectful, open and confident and the conversation will flow naturally.
It takes two to tango
And it also take two to have a healthy and engaging conversation. If you ever find yourself in an online chat that's one-sided, it's time to cool it. If she hasn't responded to a couple of messages, or her responses are lacking enthusiasm, give it a couple of days, if you still don't her anything back, it's time to move on.
Not every match will be a raging success. That's just the nature of chatting to girls online. If you find there's a pattern of ghosting occurring, you might be coming on a little strong. Try dialing it back a little as see if that improves things.
If you're coming across as overly eager in the first few chat messages, it can be too much for her to deal with and that could be why she's backing away.
Whatever the case may be, 3 unanswered messages in a row is where you need to draw the line.     
Chat sites where guys can chat to girls          
There's plenty of competition online among the top chat room websites. With the following information we are providing for you today, you may save yourself a bit of time with having to road test each and every chat site out there. We've done the research for you, so you don't have to.
Here are some initial suggestions for chat sites and online communication tools to help you to interact and chat with girls.    
BravoDate. If you're on the lookout for meeting and chatting to girls from various European countries, BravoDate is an excellent choice which offers its users powerful and sophisticated search tools. Its user base is heavily skewed in favor of more girls, which is one of the rarer sites on the internet that feature more females than males.
EasternHoneys. If you have a thing for chatting with Asian girls online, this chat site boasts a significant database of Asian girls from practically every Asian country in the world.
Here's another great site for you to test drive! With LaDate, you'll meet gorgeous single girls from Latin America. Users can setup their very own unique singles profiles and can choose from numerous ways of communicating including sending virtual gifts and IM chat messages.
Western men are often very attracted to women from Slavic countries such as Czech Republic, Ukraine, Belarus, and Slovakia. And it's no wonder why. Some of the worlds most stunning women reside in these locations. JollyRomance makes it easy to get in touch with these beauties. The site offers an impressive range of great search filters so you can narrow your online search to chat with the best girls online.  
Best Way to Chat with a Girl Online

It makes sense to brush up on some strategies to chat with a girl online. Arm yourself with our expert knowledge and tips which will help you to achieve great results!
Important – Ask open-ended questions to keep the chat flowing. Avoid using short questions and answers such as a simple yes or no. You need to retain your chat buddies interest or you risk losing them fast.
Look for simple icebreakers with a flirty or random question. This is a quick way to find out more about her in a short space of time. Try these:
What do you like to get up to on your days off?
What's a good-looking girl like you doing on a chat site?
Have you read any good books recently?
If you had a choice of fun things to do, which would be your favorite activity?
A simple yet meaningful hello is a nice gesture
Sometimes a basic yet thoughtful approach does wonders. A simple hello doesn't sound like you're desperate and doesn't place the girl under any pressure. Try these:
Hi there! How is your day going so far?
Your profile looks great, and I just wanted to say hello!
Good morning, what did you get up to on the weekend?
Hi there, I hope you're having a great week.
Hey, how's your experience been on this chat site so far?
Top Chat Rooms to Chat with Girls Online
There has never been a better time to meet and chat with girls online. The choice of chat websites is enormous. There are dozens of popular sites with available women from all around the world. Simply put, if you're looking to find enormous pools of single girls, chat rooms online can open the door to a new universe of girls who just like you, are eager to find new connections.   
PlaceToChat. This website offers a free trial for all users. There are several options for paid members depending on the level of access you're after. Monthly subscriptions range between $2.99 – $9.99. One of the main benefits in using a paid chat site is that it greatly reduces the amount of scammers and trolls. It seems like a small price to pay so you can have confidence you're chatting with real and legitimate girls. PlaceToChat has an active audience. The site has plenty of ways in which its users can interact. Send stickers, choose from a range of virtual gifts, exchange photos or videos with girls or watch live streams there's plenty of cool ways to mingle with live girls.
If you're looking to escape boredom, you should take a close look at FunChatt! The sites algorithm suggests compatible girls for you to chat with which is a super convenient and time-saving functionality within this site. Simple site navigation makes this one of the most user-friendly websites out there. Free and paid members can access searching and viewing profiles. FunChatt is the number 1 platform for chatting with random girls from all across Latin America. The site offers sophisticated communication search tools and filters so you can narrow down your searches based on age and location.      
Final thoughts
Be honest about your intentions
Authenticity is important with online chatting and text conversations. Honesty is a huge part of authenticity. When you can be open about what you're looking for you're opening the lines of communication.
You're both on the same page and if she sticks around, you know she's into it as well. Authenticity totally eliminates the need for any frustration along the way. You both know where you stand and you can talk about it openly.     
Chatting with girls online should be viewed as an investment of your time. Invest your effort, be patient and don't expect things to happen straight away.